Central Coast Removalists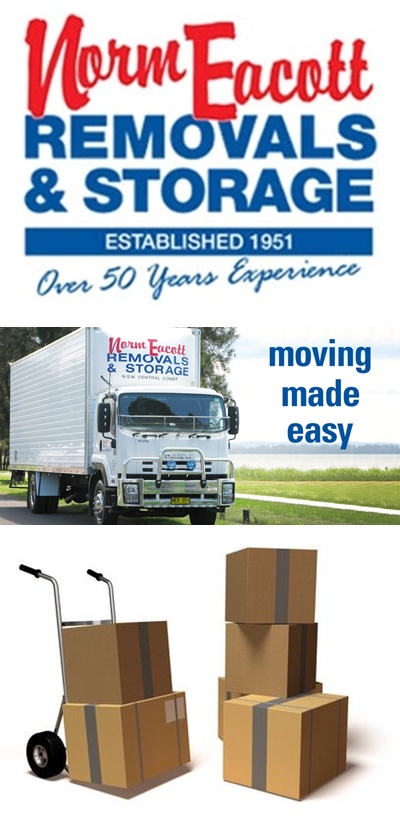 Norm Eacott Removals & Storage is the oldest removal firm on the Central Coast of NSW.
We are family owned and operated and established in 1951 in Gosford, so when it comes to removals and storage on the Central Coast, we know our stuff!
The owner, Klynton McWilliam, is responsible for the day to day running of the business and when you call, you are welcome to speak to him personally or one of our friendly, helpful staff, 24hours a day, 7 days a week!
No move too small or too big!
Our highly experienced team of removalists will cater for your removal in the most professional manner that will have you impressed from start to finish. We supply all the required equipment for your move, from portable robes to ensure that your clothes do not get creased, along with all the required paper, tape and packaging boxes.
Norm Eacott Removals also provide an additional services such as:
full pack and unpack service
specialist antiques move / piano moves
vehicle transportation (cars, trailers, motorbikes, boats)
Norm Eacott Removals can also provide modern, fully alarmed storage facilities in a secure compound for your peace of mind.
Ph: 02 4389 4089 Mobile: 0417 152 861
Email: [email protected]
Website: eacottremovals.com.au
Citicoast Removals
Phone: 4353 5779
Adrians All Inclusive Transport
Phone: 0400 696 127
Ben's Furniture Removals
Phone: 0409 126 987
Ave A Good Weekend Removals
Phone: 4393 0503
Southys Removals & Transport
Phone: 0401 334 443
Tuggerah Removals & Storage
Phone: 0447 778 098
Gentle Giant Removals
Phone: 4397 1178
A To B Furniture Removals
Phone: 4392 7987
Pack 'N' Move
Phone: 4333 8579
All Care Removals
Phone: 0438 811 895
Surfside Removals & Storage
Phone: 1300 006 683
iMove Group
Phone: 1300 046 683
Gosford Furniture Removals & Storage
Phone: 4340 1613
Staples Removals
Phone: 4357 1500
T & G Furniture Removals
Phone: 4384 3549
Giraffe Removals
Phone: 1300 554 552
Mark One Moves
Phone: 0412 271 001